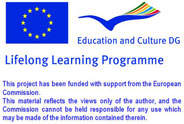 Art Sources Review
Title of Product
:
Matthew Paris
Country
:

United Kingdom
Century
:
1200 - The 13th Century
Name of Author(s)
: www.spartacus.schoolnet.co.uk
Name of Producer
: www.spartacus.schoolnet.co.uk
Language/s of Product
: English
Target Group
: General public, teachers and students 11+
Objectives & Structure
:
The site is designed for teachers and students and has a basic history of Matthew Paris and links to a few related topics.
Description of contents
:
Limited to one illustration and 2 vignettes but succinct history.
Evaluation and Comments
:
Clarity of structure, logical sequence of contents
: excellent
Usability / easiness of navigation
: excellent
The website is interesting / stimulating
: excellent
Educational and learning value
: good
Quality and relevancy of content
: good
Compatibility of the content with the target group
: good
Suitability and quality of graphic interface
: poor
Degree and quality of interaction
: poor
Exploitation of the electronic potential
: poor
Possibility of printing/saving material or tests
: fair
Description of how the website can be used with the students:
:
Limited use by students but would provide teachers with some background information and sources.
Comments:
:
A rather basic site. (See the better Wikipedia entry)
Evaluation Date
: 30.06.08
Name of teacher
: Jane Giles, Ruth Harwood
Name of School
: Trinity School
Comments about this product
---
Michelangelo - Copyright 2008 - This project has been funded with support from the European Commission



Materiale fotografico: ©
Pavel Losevsky
|
Dreamstime.com