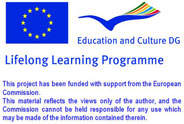 Art Sources Review
Title of Product
:
Cafe Deutschland (von Jörg Immendorff)
Country
:

Germany
Century
:
1900 - The 20th Century
Topic
:
zeitgenössische Kunst des 20. Jahrhunderts Jörg Immendorff
Name of Author(s)
: Jutta Göricke
Name of Producer
: Goetheinstitut
Language/s of Product
: Deutsch
Target Group
: Schüler/innen der Sekundarstufe I und II, Realschule und Gymnasium
Objectives & Structure
:
Das Material weist keine didaktische Struktur auf - es ist auch keine "didaktische Quelle" sondern befasst sich aus einer anderen Perspektive als der unterrichtlichen mit dem Künstler und mit seiner Serie "Cafe Deutschland".
Description of contents
:
kurzer Überblick über die Bilderserie "Cafe Deutschland"
Evaluation and Comments
:
Overall Evaluation
: excellent
Clarity of structure, logical sequence of contents
: excellent
Usability / easiness of navigation
: excellent
The website is interesting / stimulating
: excellent
Educational and learning value
: excellent
Quality and relevancy of content
: excellent
Compatibility of the content with the target group
: excellent
Suitability and quality of graphic interface
: excellent
Degree and quality of interaction
: excellent
Exploitation of the electronic potential
: excellent
Availability and quality of simulation exercises
: fair
Quality of the evaluation tools
: fair
Possibility of printing/saving material or tests
: fair
Description of how the website can be used with the students:
:
Informationen: zum Leben Immendorffs und zu seinem künstlerischen Werk.
Einige Bilder zum Leben des Künslers.
Evaluation Date
: 24.7.2008
Name of teacher
: Michael Weisbrod
Name of School
: Realschule Edenkoben
Comments about this product
---
Michelangelo - Copyright 2008 - This project has been funded with support from the European Commission



Materiale fotografico: ©
Pavel Losevsky
|
Dreamstime.com