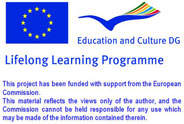 Art Sources Review
Title of Product
:
Great Buildings Online: Durham Cathedral
Country
:

United Kingdom
Century
:
1100 - The 12th Century
Name of Author(s)
: Kevin Matthews
Name of Producer
: Artifice Inc.
Language/s of Product
: English
Target Group
: Architectural Scholars, teachers and students 16+
Availability of community
:
Forum
Objectives & Structure
:
A subscription site with some limited access to home page information. The site is designed for students of architecture but has some basic and useful material and references for teachers.
Description of contents
:
Limited images of Cathedral itself but succinct history and useful references and link to interactive site.
Evaluation and Comments
:
Clarity of structure, logical sequence of contents
: good
Usability / easiness of navigation
: good
The website is interesting / stimulating
: good
Educational and learning value
: good
Quality and relevancy of content
: good
Compatibility of the content with the target group
: fair
Suitability and quality of graphic interface
: good
Degree and quality of interaction
: fair
Exploitation of the electronic potential
: poor
Possibility of printing/saving material or tests
: good
Description of how the website can be used with the students:
:
Limited use by students but would provide teachers with some background information and sources.
Evaluation Date
: 30.06.08
Name of teacher
: Stef Gabrysch, Peter Hooper
Name of School
: Queen Elizabeth School
Comments about this product
---
Michelangelo - Copyright 2008 - This project has been funded with support from the European Commission



Materiale fotografico: ©
Pavel Losevsky
|
Dreamstime.com