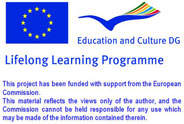 Art Sources Review
Title of Product
:
Mathis Gothart Grünewald
Country
:

Germany
Century
:
1500 - The 16th Century
Name of Author(s)
: wiki commons
Name of Producer
: wikipedia
Language/s of Product
: Deutsch / Englisch
Target Group
: Lehrkräfte für Kunterziehung, Schüler/innen an Sekundarschulen
Website last update
: 19.7.2006
Objectives & Structure
:
Diese Seite auf wiki-commons zeigt eine Sammlung von im Internet verfügbaren Bildern der Grünewald´schen Gemälde.
Die Seite enthält "Unterkategorien" zum "Isenheimer Altar" und zur Stuppacher Madonna"
Description of contents
:
Wie bereits oben erwähnt gibt diese Seite einen Überblick über das (nicht zu umfassende aber dennoch sehr interessante) Werk des Mathias Grünewald.
Die präsentierten Bilder zeigen häufig auch Details der Kunstwerke.
Evaluation and Comments
:
Overall Evaluation
: excellent
Clarity of structure, logical sequence of contents
: excellent
Usability / easiness of navigation
: excellent
The website is interesting / stimulating
: excellent
Educational and learning value
: excellent
Quality and relevancy of content
: excellent
Compatibility of the content with the target group
: excellent
Description of how the website can be used with the students:
:
Wenn man keinen Bildband zu Grünewalds Werk zur Hand hat dann ist diese Webseite eine sehr willkommene Unterstützung um dennoch einen Eindruck von diesem Künstler zu erhalten. Somit ist diese Quelle vor allem als "Input" oder als Einstiegs-"Quelle" zu empfehlen, oder aber auch zur Beschäftigung mit einzelnen Kunswerken (Bildbetrachtungen).
Evaluation Date
: 16.2.2009
Comments about this product
---
Michelangelo - Copyright 2008 - This project has been funded with support from the European Commission



Materiale fotografico: ©
Pavel Losevsky
|
Dreamstime.com