Name of the Artist / Artwork
:
John Constable and Joseph Mallord William Turner
Country
:

United Kingdom
Century
:
1800 - The 19th Century
Artist / Artwork Description
:
John Constable (1776-1837) and J.M.W. Turner (1775-1851) were the major English landscape painters of the 19th century.
Synthetic Chronology
:
John Constable was born in East Bergholt, Suffolk on June 11th, 1776. Despite his interest in drawing from an early age, it was not until 1799 that he enrolled at the Royal Academy Schools. His first exhibition at the Royal Academy was in 1802. In 1829, Constable was made an Academician at the Royal Academy. He died at the age of 61 on March 31st, 1837
Joseph Mallord William Turner was born in London on April 23, 1775. At the age of 14 he started to attend the Royal Academy School and became a full member of the Royal Academy (RA) in 1802. Throughout his career he was involved with the RA and was made the Professor of Perspective in 1811 and acting President in 1845. J.M.W. Turner died in December 1851

The Context
:
These two artists mark the boundaries between classicism and topography in landscape and the move toward Romanticism. Their work must be set against, or be seen to respond to, the social and political changes which the Industrial Revolution was bringing about across Europe. Other art forms beside painting - writing, poetry, music - were adopting a different, more romantic view of the landscape. As Wordsworth wrote so Constable and Turner felt, "one impulse from a vernal wood can teach us more of man, of moral, evil and of good, than all the sages can".
Background
:
The work of Constable and Turner owed a lot in the beginning to the 17th century landscape traditions of Europe. Constable was strongly influenced by the Dutch painters, like Hobbema and Jacob van Ruisdael, both directly and indirectly through the landscapes of Thomas Gainsborough. Gainsborough's "Mr and Mrs Andrews" is a key work here, its rolling countryside backdrop alerting Constable to the picturesque potential of his Suffolk homeland.
Turner was trained as an architectural and topographical draughtsman but, under the influence of the classical landscapes of Nicholas Poussin and Claude Lorrain, found inspiration for his large-scale 'story' paintings in which the grandeur of the landscape began to dwarf the narrative. He was also inspired by 17th-century Dutch marine artists such as Willem van der Velde with their sense of drama and power in natural forces.

National Comparative
:
Constable's deep love for the countryside is evident in all his work. Unlike Turner, he rarely travelled and then only within the British Isles. His cloud studies and rural scenes were the culmination of English painting of landscape seen in the work of Gainsborough, Wilson, Towne, Rowlandson, Cotman, Bonnington and others - art with a focus on the observation of reality, on genre and on the peculiar watery quality of the English countryside.
Turner, on the other hand made several trips to Germany, Italy, France and Switzerland and began to think and paint more grandly in terms, as Ruskin said, of "the True, the Beautiful and the Intellectual". He was able to study the earlier classical works of Claude and Poussin in stately homes like Petworth, collected by the English nobility on their grand tours of Europe.
William Morris and the Pre-Raphaelites were also reacting to Romanticism in rather different ways in their work.
Artistic Analysis
:
The work of Constable and Turner marks an important shift in the tradition of British landscape art. Although very different in style and content, the painting of Constable and Turner developed a freedom of paint handling that was to have a profound effect on landscape art. Constable's preoccupation remained with physical actuality whilst Turner strove for the atmospheric. Together, however, they invented and explored the new language that French painters took up in the Barbizon school and then in Impressionism. The moods of nature, from the subtle range of greens in Constable's meadows under windy, cloud-tossed skies to the greys, misty blues and browns of snow storms in Turner's Alps or rain-lashed seas, feelings were expressed through a vocabulary of impasto paint and free brush strokes.
Transnational Comparative Analysis
:
Each European country had landscape artists and a landscape tradition but rarely, perhaps with the exception of Holland, were they considered as important as painters of history, religious subjects or portraiture.
19th century painting tended to provide particular roles for landscape, for example, dramatic backdrops for Goya, Friedrich, Gericault, Delacroix and others. However, when Constable and Turner's work was seen outside England it began to have a significant impact, Gericault and Delacroix both acknowledging the importance and originality of the English artists' vision and techniques and elevation of landscape art to a new level.
Development of the artist's work through the years
:
Both artists used watercolour for preliminary sketches and studies as well as for finished works. However it is for the later grander oil paintings like Constable's "The Haywain" or "View on the Stour" or Turner's "The Shipwreck" or "Crossing the Brook" that they are best known.
They were also both prolific artists, leaving behind hundreds of drawings, sketch books and finished paintings. We are able, through these to follow their thoughts, ideas, developments and processes across the whole of their working lives.

Justification
:
Constable's work inherited the landscape tradition of the Dutch 17th century and heralded the Romantic movement, whilst Turner's referred back to the classicism of Claude Lorraine and reflected on the contemporary change brought about by the 'Industrial Revolution'. They both influenced painting across the whole of Europe.


Bibliography
:
Constable to Delacroix, An exhibition teacher's pack in English or French, Tate Gallery 2003
Constable: the great landscapes, Teacher's pack, Tate Gallery, 2006
Turner, William Gaunt (Phaidon, 1971)
Unknown Turner: notes for teachers, Miquette Roberts, Tate gallery
A comparison of Constable and Turner: www.tate.org.uk/britain/turner/fs_turnerconstable.pdf

Related Material:
Image available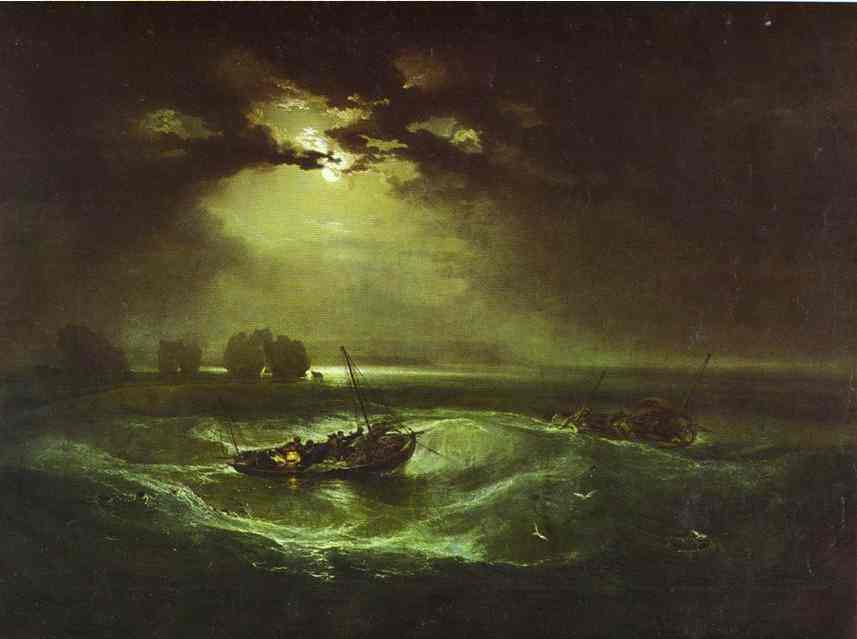 File name: 103_Fishermen at Sea.jpg
Description of the material:
William Turner - Fishermen at Sea
Contextualisation Of the source:
1796. Oil on canvas. Tate Gallery, London, UK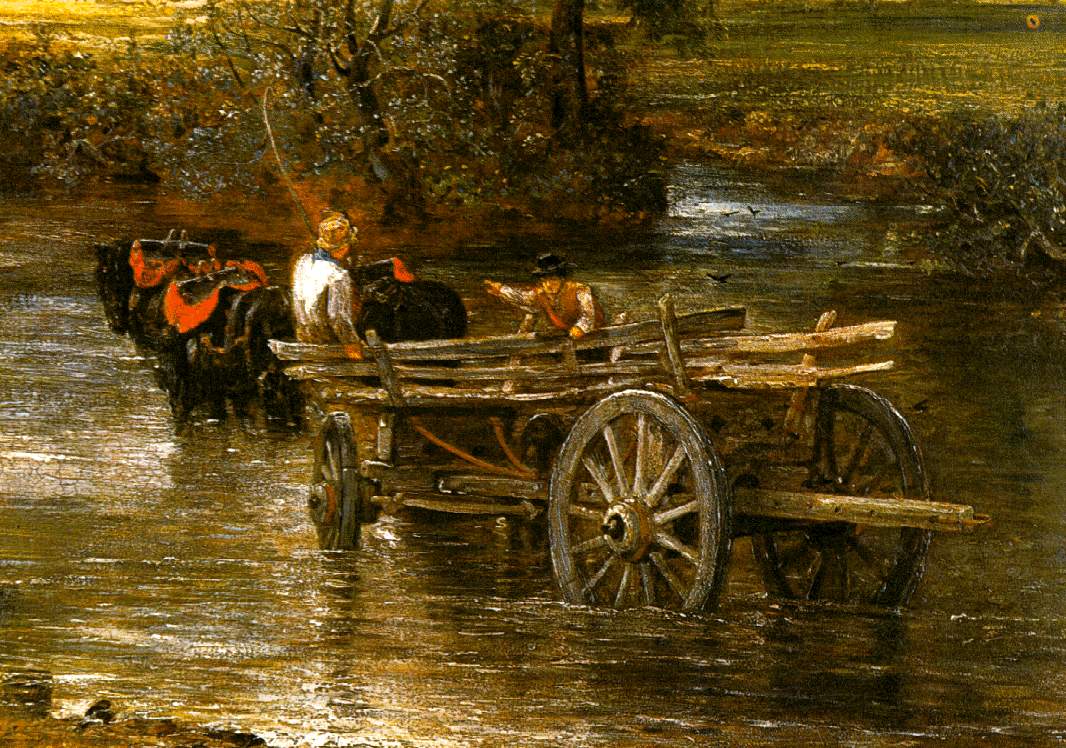 File name: 103_John_Constable_carro_de_feno.jpg
Description of the material:
Hay Wagon
Contextualisation Of the source:
National Gallery - London
Comments about this Artist/ArtWork
---
Date: 2009.09.18
Posted by Barbara Łabian,POLAND
Message: William Turner –
His painting is the case in point when we talk about romantic landscapes fulfilled by the very outstanding and reflecting atmosphere.
It can encourage students to work while observing the masterpiece when they are expected to speak about the rules of the atmosphere in the art and in the picture, also in the specific situations and artistic extensions. The selected painting can be treated in such relations while comparing to Canstable, etc. The pictures can be also analyzed by means of the technics' assumptions, artistic steps used to set on The specified aura. The best thing is to watch the site below: http://pl.wikipedia.org/wiki/William_Turner

Date: 2009.05.28
Posted by Teodora Zeia, National School of Arts "Dobri Hristov"-Varna, Bulgaria
Message: In "Development of the artists' work through the years" it is mentioned that Turner and Constable "used watercolour for preliminary sketches and studies as well as for finished works". I would like to add that after aquarelle had been brought to England by artists, coming from the North, it became a compulsory part of English aristocracy's education and consequently was often considered to be "dilettante" material. And although talented painters (Gainsborough, John Robert Cozens, Thomas Girtin) started using watercolour after the first half of the XVIII Century, its full strength of impression and potentialities were not entirely realized until the XIX Century. Turner and Constable were the painters who enlarged the range of subjects, the variety of techniques and manner of expression. Turner is considered to be the greatest aquarellist of his time. I would like to quote Herbert Read's thought about the artist: "He first perfected himself in the typically English art of watercolour, and he became the greatest master the world has ever known of this particular genre."
Date: 2009.05.22
Posted by Nadia Petrova, NSA, Rousse, BG
Message: Turner's biography - life and art - in Bulgarian, supported with good examples of his art can be found at: http://www.amsart.com/Artconect%202/artconect2_7bio%20CE.htm. This information, combined with the data provided at the Michelangelo web-portal will help us build a complete and substantiated course on Turner.
Date: 2009.05.22
Posted by Anka Kuncheva, Sofia, BG
Message: A lovely video with the works of Constable: http://vbox7.com/play:348bb20e. Very gentle artist, whose art has always moved me. This repository is really useful for art-teachers.