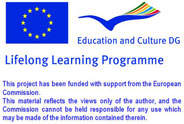 Welcome to the Michelangelo Project Home Page.
The aim of the Michelangelo project is to provide art teachers and art students in secondary schools with an overview of European fine arts. On this portal you can find information on the most representative
artists and artworks
of six European countries in the last ten centuries. A search can be made choosing either the
century
or the
country
.
Timeline
Countries

Italy

Poland
Michelangelo - Copyright 2008 - This project has been funded with support from the European Commission



Materiale fotografico: ©
Pavel Losevsky
|
Dreamstime.com