Name of the Artist / Artwork
:
Matthew Paris
Country
:

United Kingdom
Century
:
1200 - The 13th Century
Artist / Artwork Description
:
Matthew Paris (1200 – 1259) was a Benedictine monk who became an English Chronicler, cartographer, miniaturist and illuminated manuscripts artist.
Synthetic Chronology
:
1200 - Matthew Paris born in England
1217 - Admitted as a monk to St Albans Abbey
1236 - Became St Albans Abbey's official chronicler, (recorder of events).
1248 - Sent to Norway as the bearer of a message from Louis XI to Haakon VI and to reform the monastery of St Benet-Holme.
1259 - Died at St Albans Abbey

The Context
:
As a young man, Matthew Paris entered the Benedictine monastery at St. Albans. Matthew was interested in history so he was given the job of helping Roger of Wendover, the chronicler of the abbey of St. Albans. In 1236 Matthew took over from Roger. St Albans Abbey is on the main road north from London and many travellers stopped there for the night. Matthew was able to collect a lot of information about what was going on in the rest of the country.
His reputation as a historian grew and more important people began to visit him, no doubt hoping that he would say nice things about them in his books. Those who visited him included Henry III. However, Matthew disagreed with Henry's policy of appointing foreign advisers and he was often very critical of the king.

Background
:
The wealth of St Albans Abbey, its position on Watling Street and its proximity to the capital, marked it out as the chief centre of monastic culture in the thirteenth century. Matthew Paris was able to keep up connections with the great men of the day as they passed through it on their way to and from London and the provinces. As well as being a good writer, Matthew was a talented artist, and in the margins of his books he illustrated the text with drawings and paintings. Although he has been criticised for relying too much on rumour and gossip and being prejudiced against foreigners and friars, Matthew Paris is considered to be one of the most important observers and recorders of the medieval world.
National Comparative
:
Paris's fame (and the evident high quality of his work) has led to the assumption that he created the style by which he is known; however, surviving fragments of contemporary wall paintings at Windsor show that the King's painters were working in a similar style and consequently it is equally possible that Paris was following fashion rather than setting it.
Artistic Analysis
:
Paris's style remained to a certain extent old-fashioned, drawing rounded figures rather than the thinner angular models of most of his artist contemporaries. However, his compositions were very inventive; his position as a well-connected monk may have given him more confidence in creating new compositions where a lay artist would prefer to stick to traditional formulae. It may also reflect the lack of a full training in the art of the period. His colouring emphasises green and blue, and together with his characteristic layout of a picture in the top half of a page, is relatively distinctive.
Transnational Comparative Analysis
:
The art of illuminated manuscripts was common across Europe at this time and artists and texts travelled from place to place. It was known, for example that Matthew Paris was sent on a diplomatic errand to Norway, and once there, was invited, a little later, to superintend the reformation of the Benedictine monastery of Nidarholm outside Trondheim. Undoubtedly his ideas and style would have influnced other European chroniclers and artists.
Development of the artist's work through the years
:
It is difficult to trace any real development in his style as the various elements of his manuscripts now bound together may not have been intended to be so by Paris. They mostly contain more than one text, and often begin with a rather random assortment of prefatory full-page miniatures. Most of them were given by Paris to his monastery and then often lent out to important people or families.
Justification
:
Matthew Paris made extensive and detailed chronicles of events in 13th century England which form one of the most significant primary sources in medieval studies. He produced illustrated manuscripts, maps, volvelle, and historical documentation.
In England artwork began to flourish under the patronage of Henry III.

Bibliography
:
A Survey of Manuscripts Illuminated in the British Isles, Volume 4, Nigel Morgan, (Harvey Miller 1982)
Related Material:
Image available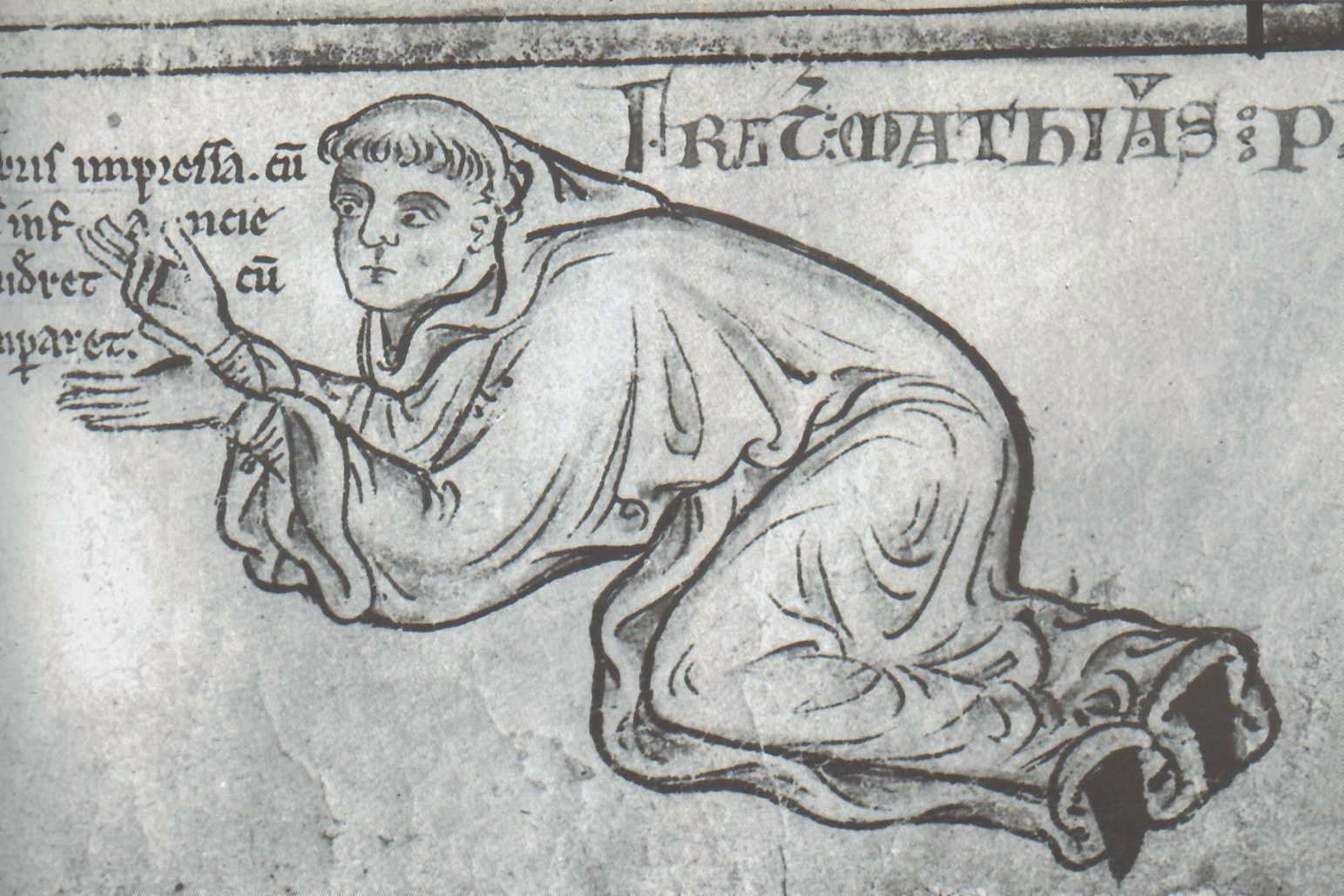 File name: 109_BritLibRoyal14CVIIFol006rMattParisSelfPort.jpg
Description of the material:
A self portrait of Matthew Paris with his name above.
Contextualisation Of the source:
The drawing can be found in the original manuscript of his Historia Anglorum (London, British Library) – see British Library websites. This image from http://en.wikipedia.org/wiki/Matthew_Paris
Interpretation of the source:
This pen and ink drawing, with its flowing lines and rounded forms, is a detail from a page of one of Matthew Paris's manuscripts. The complete page shows the Virgin and Child with the Benedictine monk and artist, Matthew Paris, kneeling before them.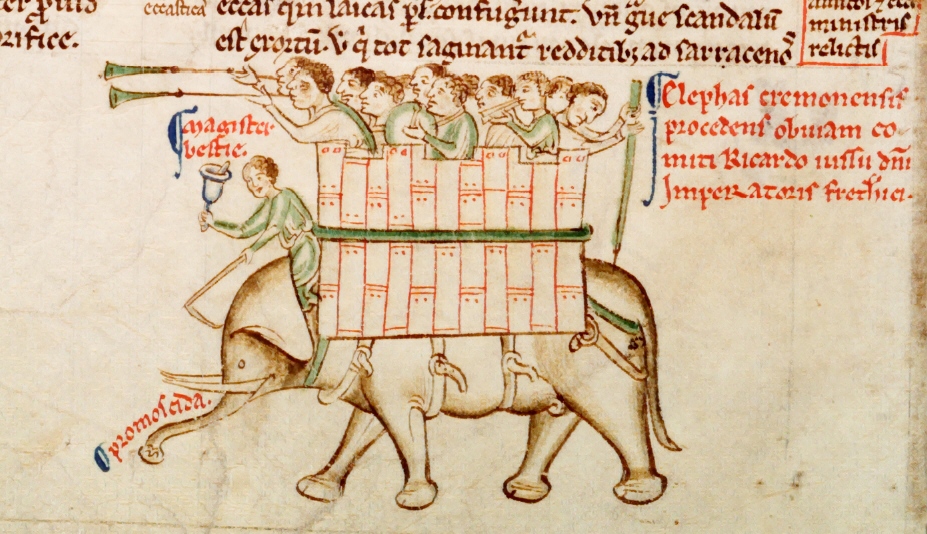 File name: 109_MatthewParis_Elephant.jpg
Description of the material:
This drawing by Matthew Paris is from a manuscript known as Chronica Maiora. It was called the Cremona elephant and shows a gift presented to Holy Roman Emperor Frederick II by Sultan of Egypt Al-Kamil, in 1229. As we see here, Frederick used the elephant in his triumph parades. Matthew Paris drew the elephant in the context of the visit of Frederick's brother-in-law Richard of Cornwall to Cremona in 1241.
Contextualisation Of the source:
The original manuscript is in the British Library. This image is from http://en.wikipedia.org/wiki/Matthew_Paris
Interpretation of the source:
This is one of Paris's drawings of unusual animals which would have proved such an attraction in Medieval England. Another drawing by him shows the beast that was given by Louis IX of France to Henry III of England, for his menagerie in the Tower of London in 1255. Matthew Paris' original drawing from life can be found in his bestiary. He explains that while at the Tower of London, the elephant was fed prime cuts of beef and expensive red wine, and is claimed to have died in 1257 from drinking too much wine!
Comments about this Artist/ArtWork
---