Name of the Artist / Artwork
:
Caspar David Friedrich
Country
:

Germany
Century
:
1800 - The 19th Century
Artist / Artwork Description
:
Caspar David Friedrich (1774-1840)
"Monk by the Sea" (Der Mönch am Meer) (~1809)


Synthetic Chronology
:
Caspar David Friedrich was born 1774 in Greifswald (Germany) a little seaport at the baltic sea. His familiy was very devout. Already very early in his life – due to the death of close family-members - he was confronted with finiteness of life.
He got instruction in drawing since 1790, and in 1794 he started studying at the Art Academy of Kopenhagen, Denmark. He made drawings and paintings guided by nature and came in touch with flemic (dutch) landscape-painting.

In 1798 he moved to Dresden. Between 1808 and 1815 he travelled home numerous times, e.g.to Rügen, an island in the Baltic Sea. During his journeys he made a lot of sketches and drafts for his later paintings.
In 1805 Caspar David Friedrich got one half of the Academy-Award of Arts in Weimar and in 1824 he achieved professorship at the Dresden academy.

Due to a stroke he was seriously handicaped in his artistic work since 1834. Selling some of his works to the russian Zar he was financially independent.
One of C.D. Friedrichs admirers was Johann Wolfgang von Goethe (1749 - 1832)
C.D. Friedrich died in 1840. After his death his artistic work fell from favour, but he got popular again at the beginning of 20th century. After World War II it became clear that he was a precourser for Modern Art.

Important masterpieces of C.D. Friedrich are:
- Abbey in oakwood (1809/19 "Abtei im Eichwald" (1809/10),
- Monk by the sea ("Der Mönch am Meer" about 1809/10),
- Wanderer above the mists ("Wanderer über dem Nebelmeer" (1817),
- chalk cliffs on Rügen ("Kreidefelsen auf Rügen", um 1818),
- The lone Tree ("Der einsame Baum", 1822),
- Evening Landscape with two Men ("Abendlandschaft mit zwei Männern", 1830),
- The Eldena-Ruin ("Ruine Eldena im Riesengebirge", 1830/1834),

The Context
:
The nineteenth century was affected by different social, political and economic changes (i.e. development of photography, railways and beginning industrial revolution).
It was a time of change between revolution and restauration. After the French Revolution there was a lot of struggle for freedom in many other countries, too.
Secularisation shattered the inner connection of religious and christian beliefs.
After these struggles for freedom in the German-speaking territory people hoped to get a new social order to lead them to national unity in vain.
The loss of common values of measure and traditional social bonds led to insecurity even in arts, leading to search restaurative return of antique ideals as well as orientation towards the changes of beginning modernity.
This is expressed in various art-styles of the 19th century such as Classicism, Romanticism, Realism and Impressionism.


Background
:
Caspar David Friedrich is one of the most famous painters of romanticism, an art-style of origin at the beginning of the 19th century in Europe. This "romaticism" first deposited within literature (e.g. Novalis, E.T.A. Hoffmann) in music (e.g. Schumann) and in philosopy (e.g. Schelling, Fichte).
Within this attitude towards life Romatic Art was inevitable. Dissapointed hope of political and social change led to withdrawel, to a concentration upon the self and to a kind of flight into daydreaming of idealised environment.
This development antagonised the ratio-bound sight of enlightenment and stressed the individual, subjective perception.
The human being is affected by the growing and dying nature and thus recognizes his own historical dimension. Experiencing nature human beings get close to their own voidness and the apparentness of God in the world. Thus nature is the major theme in the work of Caspar David Friedrich. His concern is not to show the things how they are but to show the emotional experience of nature which allows some kind of abstraction of the depiction.


National Comparative
:
Another representative of nature-religious painting was the painter, drawer and art historian Phillip Otto Runge (1777 – 1810).
Like Friedrich he focused subjective sensation of artistic presentation of nature (for example "The big Morning, 1809). Late romanticism (starting around 1830) reaches over "Biedermeier" until to the second half of 19th century and shows a quite different attitude towards nature than Friedrich.
Adrian Ludwig Richter (1803 – 1884), Moritz von Schwind (1804 – 1871) and Karl Spitzweg (1808 – 1885) are the most important painters of this time.
They didn´t show "emotional landscapes" with symbolic details any more but rather popular, idyllic paintings of an "ideal" world. Illustrations of fairytales, legends and folksongs are typical for the era of late romanticism.



Artistic Analysis
:
The painting "Monk by the Sea" shows a trichotomie with its colossal sky, a narrow, dark band of sea and the sparse strap of seashore.
The monk is seen from behind as a tiny figure and is placed exactly where the sky reaches its deepest point and the coast extends to the sea. This open motive shows an empty and desolate landscape in pale colours.
Thus the contemplator as the monk not only experiences the emptiness and vastness but his own meaninglessness and loneliness in front of God and oblivion.
The motive of this landscape painting consists of single motives of different origins. It is reduced to the essential and somehow an abstraction. Due to this the painting is quite striking, the contemplator steps almost into the painting to enter the scene and is able to empathise an individual interpretation of symbolism.
The masterpiece "Monk by the sea" belongs to the masterpiece "Abbey at oakwood"; they were shown as pendant at the Academy exhibition in Berli in 1810.
A final interpretation of this last mentioned painting is impossible. The endlessness the monk faces could be explained as an expression of the oblivion, on which the rising moon is shining. Just as well the endlessness of the universe could be the major theme.
In this work the difference to popular landscape painting is obvious, and therefore Friedrich is known as a painter of modernity.
- etc.
This led to criticisms on his works of art. Particularly because of:
- very accurate and austere compositions
- lack of action in his depictions
- complicated religious symbolism
etc.


Transnational Comparative Analysis
:
In the Netherlands landscape-painting raised in the 17th century as an own theme.
An important painter of this era was the dutch painter Jakob van Ruisdal (1628 – 1682). His masterpiece "The jewish graveyard" (Der Judenfriedhof, 1670/75) impressed Friedrich very much when he saw it at the Dresden gallery. Ruisdal combined various motives of fantasy-landscape that contained encrypted messages.

Those symbols could be understood by everyone. But C.D. Friedrich wanted to develop his own and personal symbolism, and that is why a final interpretation of his paintings is not always possible.


Development of the artist's work through the years
:
Caspar David Friedrich was mainly focused on landscape painting.

During his travels to the Harz, to the Baltic Sea and to the Elbsandsteingebirge he made a lot of sketches. In his studio he combined the single motives and arranged them to new landscapes that didn´t exist as such in reality.
- Particular picture-elements have a certain symbolic meaning: coast, sea, harbour: transit to death
- Ships: travel through life
- Graveyards: yearning for death, fugacity


Justification
:
Though critical discussed at ist first presentation on an exhibition "Monk by the Sea" marks a change in landscape painting.
Whereas landscape was subordinated part in former painting it became a subject of the painting itself.
Furthermore not only naturalistic landscape painting but the reduced illustration of nature shall evoke contemplators´ emotions.
With his works C.D. Friedrich influenced a lot of modern romanticists such Barnett Newman (1905 – 1970) whose ambition was the experience of contemplation itself (cp. Vir heroicus sublimis, 1950).



Bibliography
:
Wolf, N. (2003). Caspar David Friedrich. Taschen Verlag.
Hirmer, F. von (2006). Die Erfindung der Romantik.



Related Material:
Image available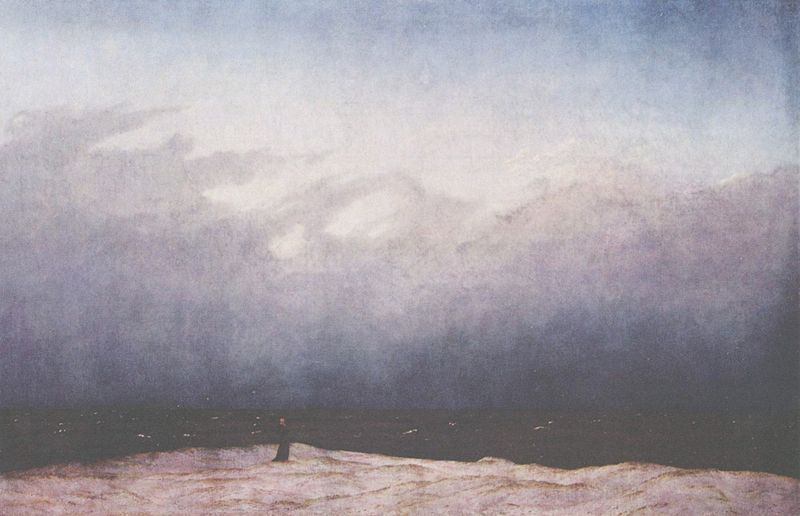 File name: 81_800px-Caspar_David_Friedrich_Mönch-am-Meer.jpg
Description of the material:
"Monk by the Sea": Oil on canvas-painting (110cmx171,5cm).
Contextualisation Of the source:
The painting can be found at the National Gallery in Berlin. www.alte-nationalgalerie.de
Interpretation of the source:
"Monk by the Sea" shows a single person that can be identified as a monk. He can be seen only from behind. Contemplator shares the view of this monk onto a wide and solemn sky, the dark sea and the bit of seashore the monk is standing on.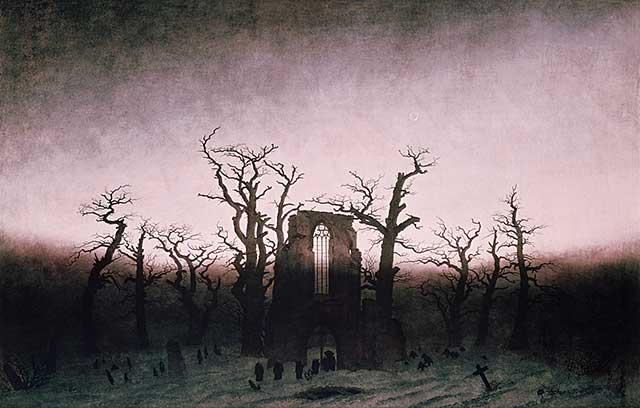 File name: 81_cdf-abbey in oakwood.jpg
Description of the material:
"Abbey in the oakwood" is an oil-on-canvas-painting (110.4cm x171cm).
Contextualisation Of the source:
The original painting is to be found at the National Gallery Berlin (Schloss Charlottenburg). www.alte-nationalgalerie.de
Interpretation of the source:
The painting "Abbey in the Oakwood" expresses grief and maybe loss. Friedrich chose this ruin as a monument in a graveyard. The painting was exhibited with its companion picture, the Monk by the Sea. This suggests the hope of resurrection in its bright sky, in contrast to the dark clouds that loom above the figure on his Baltic shore.
Comments about this Artist/ArtWork
---
Date: 2009.10.05
Posted by Gudrun Bayerlein, Kurfürst-Ruprecht-Gymnasium, Neustadt an der Weinstraße, Germany
Message: In the attached document you find some more students works on the theme "Caspar David Friedrich" - dealing with his painting "gescheiterte Hoffnung" (Eismeer). To further explanations also see the comment underneath that was posed by me before (but there was only uploaded one oicture of the students works).
Hope you enjoy these examples of artworking
Attached file: Bilder CD-Friedrich-Gudrun-Schülerarbeiten.doc
Date: 2009.10.01
Posted by Gudrun Bayerlein, Kurfürst Ruprecht Gymnasium, Neustadt, Germany
Message: Romanticism and Caspar David Friedrich
Teaching unit for students aged 14 – 16
Theory: - Historical backround , structure and symbolism along the example "Das Eismeer (Gescheiterte Hoffnung)
- First steps painting with acrylic colours

Practical work:
Personalizising an artwork of C.D. Friedrich
- transfer the outlines of the artwork but without the shipwreck
- choose a sign or motiv of personal importance and sketch this instead of the shipwreck in your artwork
- take care of the right colouring
This teaching unit was made in cooperation with a teaching unit about "Romantical lyric" in the German lesson.
The students expressed the symbolism of their art works in self created lyrical texts.

The following art works were created by students of : 10 a (2008/09),teacher: Mrs.G. Bayerlein, Kurfürst-Ruprecht-Gymnasium,Neustadt/Weinstraße.

Attached file: Bild 001.jpg
Date: 2009.06.29
Posted by Caro&Franzi,students of the Kürfürst-Ruprecht-Gymnasium (Germany)
Message: This page of Caspar David Friedrich is well structured and it´s good to find some links but we would like to have some more pictures by Caspar David Friedrich.
Date: 2009.05.22
Posted by Nadia Petrova, NSA, Rousse, BG
Message: Both visualized paintings carry the grim spirit of transience, of ending, of loneliness. An attempted neutralization of this grimness is the using of some "light" in the paintings - hope that the "other side", which will be much better. Friedrich though has painted also some exceptional works, which present the light of the day, of life. Bulgarian teachers can find some biographical information and several other exceptional works by Friedrich /such as "Wanderer above the Sea of Fog" and "Chalk Cliffs on Rügen"/ here: http://bg.wikipedia.org/wiki/Каспар_Давид_Фридрих