Name of the Artist / Artwork
:
Caravaggio
Country
:

Italy
Century
:
1600 - The 17th Century
Art Period
:
Baroc Art and Architecture in Italy
Artist / Artwork Description
:
Caravaggio, byname of Michelangelo Merisi
Synthetic Chronology
:
Caravaggio was the son of Fermo Merisi, steward and architect of the Marquis of Caravaggio. Orphaned at age 11, Caravaggio was apprenticed in the same year to the painter Simone Peterzano of Milan. At some time between 1588 and 1592, Caravaggio went to Rome. These first five years were an anguishing period of instability and humiliation. According to his biographers, Caravaggio was "needy and stripped of everything" and moved from one unsatisfactory employment to another, working as an assistant to painters of much smaller talent. He earned his living for the most part with hackwork and never stayed more than a few months at any studio. Finally, probably in 1595, he decided to set out on his own and began to sell his pictures through a dealer, a certain Maestro Valentino, who brought Caravaggio's work to the attention of Cardinal Francesco del Monte, a prelate of great influence in the papal court. Caravaggio soon came under the protection of Del Monte and was invited to receive board, lodging, and a pension in the house of the cardinal. He's work of this period are Boy with a Fruit basket (1593; Borghese Gallery, Rome), The Young Bacchus (1593; Uffizi Gallery, Florence), and The Music Party (Metropolitan Museum of Art, New York). Major Roman commissions. With these works realism won its battle with Mannerism, but it is in the cycle of the life of St Matthew in the Contarelli Chapel. The decoration of the Contarelli Chapel was completed by 1602. There was a swarm of orders for his pictures, private and ecclesiastical. He's work of this period are: The Cricifixion of St Peter (1601), The Conversion of St Paul, The deposition of Christ (1602-04), Death of the Virgin (1605-06).He then moved on to other places of hiding and eventually reached Naples, probably in early 1607. He painting a Madonna di Loreto (1603-06). Caravaggio took refuge in Sicily, landing at Syracuse in October 1608, restless and fearful of pursuit. Yet his fame accompanied him; at Syracuse he painted his late, tragic masterpiece, The Burial of St Lucy,for the Church of Santa Lucia. In early 1609 he fled to Messina, where he painted The Resurrection of Lazarusand The Adoration of the Shepherds Then moved on to Palermo, where he did the Adoration with St Francis and St Lawrence for the Oratorio di San Lorenzo. The works of Caravaggio's flight, painted under the most adverse of circumstances, show a subdued tone and a delicacy of emotion that is even more intense than the overt dramatics of his earlier paintings. His desperate flight could be ended only with the pope's pardon, and Caravaggio may have known that there were intercessions on his behalf in Rome when he again moved north to Naples in October 1609. Bad luck pursued him, however; at the door of an inn he was attacked and wounded so badly that rumours reached Rome that the "celebrated painter" was dead. After a long convalescence he sailed in July 1610 from Naples to Rome, but he was arrested enroute when his boat made a stop at Palo. On his release, he discovered that the boat had already sailed, taking his belongings. Setting out to overtake the vessel, he arrived at Port'Ercole, a Spanish possession within the Papal States, and he died there a few days later, probably of pneumonia. A document granting him clemency arrived from Rome three days after his death.



The Context
:
Caravaggio, byname of Michelangelo Merisi, Italian painter whose revolutionary technique of tenebrism, or dramatic, selective illumination of form out of deep shadow, became a hallmark of Baroque painting. Scorning the traditional idealized interpretation of religious subjects, he took his models from the streets and painted them realistically.
Background
:
The yonger Caravaggio at thirthin years old went to the workshop of Simone Paterzano. Caravaggio stayed from Paterzano's school for four years, he learned the Lombard and Venetian school. At some time between 1588 and 1592, Caravaggio went to Rome. He was already in possession of the fundamental technical skills of painting and had acquired, with characteristic eagerness, a thorough understanding of the approach of the Lombard and Venetian painters, who, opposed to idealized Florentine painting, had developed a style that was nearer to representing nature and events.


National Comparative
:
Caravaggio had a very particular tecnic. Before him style the technique was very different, about the studio of academy classic artist, like Michelangelo, Raffaello, Tiziano, Coreggio and Leonardo. The revolution of his style was about the atmosphere and the lightness of his painter. The figure of his painter came up from the dark shadow.
Artistic Analysis
:
It formed in Milan on the works of masters from Bergamo and Brescia sixteenth century, which drew attention to daily reality, and a genuine religiosity and without emphasis. Innovative feature of his painting is the function of light, which reveals things out of and builds volumes. Without doubt included among the artists most "revolutionary" always disruptive to the breaking force of his works in relation to the theories and techniques contemporary paintings, Michelangelo Merisi, known as Caravaggio had a peculiar destiny - an early glory, a life adventure, one end premature, lonely and miserable - which has a legendary character, charming and cursed, capable of influence for three centuries, although it has also helped create an image romantically simplified his biography. Only in recent times, thanks to the important historical studies of Italian and foreign - above all Hermann Voss, Lionello Venturi, Roberto Longhi, René Jullian - were unable to correct or clarify many aspects of his life and significantly change the verdict on his work.
Transnational Comparative Analysis
:
The many painters who imitated Caravaggio's style soon became known as Caravaggisti. Caravaggio's influence in Rome itself was remarkable but short-lived, lasting only until the 1620s. His foremost followers elsewhere in Italy were Orazio Gentileschi, Artemisia Gentileschi and the Spaniard José de Ribera. Outside Italy, the Dutch painters Hendrick Terbrugghen, Gerrit van Honthorst, and Dirck van Baburen, made the city of Utrecht the foremost northern centre of Caravaggism. The single most important painter in the tradition was the Frenchman Georges de La Tour, though echoes of Caravaggio's style can also be found in the works of such giants as Rembrandt van Rijn, and Diego Vélazquez.



Development of the artist's work through the years
:
The seventeenth century, as well as "baroque", is Caravaggio, with its dramatic chiaroscuro, with its sacredness violent, with its ability to surprise positively to the technique and negatively for the iconography, with its ambiguity from the process.
Still lights and shadows on the seventeenth century rich and valuable prohibitions and licensing, wealth and death, dynamism of the body and immobility of consciences. But, perhaps, a common element: an energy underground, cheta, silent, ready to turn into fireworks for the wonder (positive or negative that is) of the spectator on duty.


Justification
:
Caravaggio has been choose because it's a very revolutionary artist.


Bibliography
:
Maurizio Calvesi, Le realtà del Caravaggio, Torino Einaudi 1990.
Maurizio Marini, Michelangelo Merisi da Caravaggio "Pictor Praestantissimus", Roma Newon Compton, 2001.
Stefania Macioce, Michelangelo Merisi da Caravaggio. Fonti e Documenti 1532-1724, Roma Ugo Bozzi Editore 2003.



Related Material:
Image available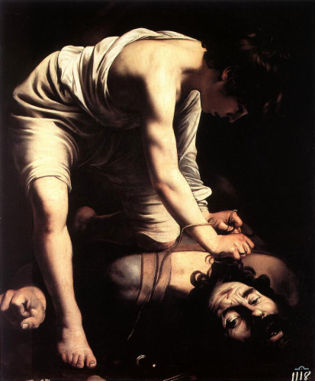 File name: 30_315px-David_and_Goliath_by_Caravaggio.jpg
Description of the material:
Davind and Goliath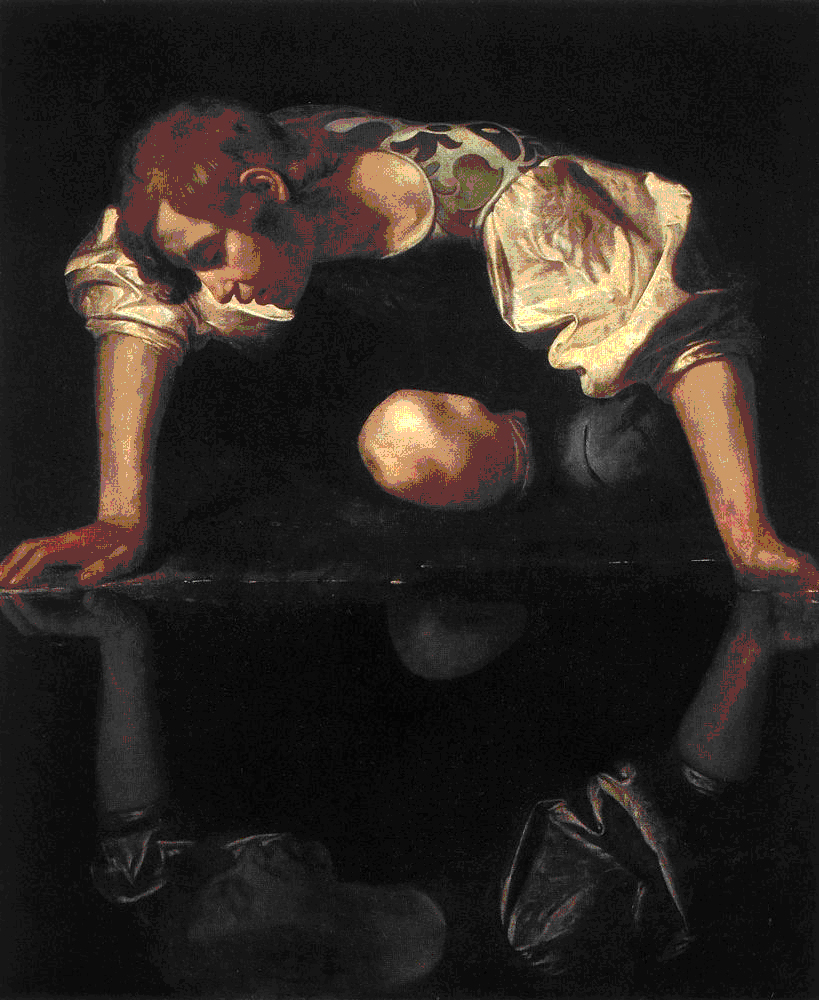 File name: 30_caravaggio1.jpg
Description of the material:
Narcissus 1598-99 Oil on canvas, 110 x 92 cm Galleria Nazionale d'Arte Antica, Rome
Comments about this Artist/ArtWork
---
Date: 2009.05.25
Posted by Teodora Zeia, National School of Arts "Dobri Hristov"-Varna, Bulgaria
Message: When speaking of Caravaggio, a certain quotation always comes to my mind- it is taken from a textbook in Art History and it reads that "Michelangelo Merisi, called by the name of Caravaggio (da Caravaggio), is one of the very few artists who have exercised a huge influence on generations of followers, amongst whom stand almost all genius painters of the XVII Century. During his short but at the same time tempestuous and extremely beneficial life he has been denied, resented and admired, but the fact is that he had his own conception of art which dated from the very beginning of his oeuvre and remained unchanged to the end of his life. His paintings are distinguished by dramatic realism, which "sparked both adoration and outrage". It is remarkable that in his quest for the natural, for the genuine simplicity in human nature, he did not merely expostulate with the idealization and the affectation of the religious painting, he also dared to choose an ordinary, sometimes even "gross" models for the saints he portrayed in his pictures. The model for his "Saint Catherine" has been identified as Fillide Melandroni- a courtesan, whose image appears also in "Portrait of a Courtesan". He portrayed Anna Bianchini (also a courtesan) as Mary Magdalene. These two women appear together in "Martha and Mary Magdalene". The characters he pictures are so vivid and real, that their presence could almost be felt.
When Caravaggio died, the influence of his creative work spread throughout Europe- his followers were first called "Tenebròsi"-"shadowists" (from "tenebròso"- dark, murky): the Spaniard Ribera (who lived and created in Neapol from 1616 to 1652, the year of his death), Georges de La Tour. The Caravaggism became a phenomenon in Europe and affected many celebrated painters: Diego Velazquez, Rembrandt, Peter Paul Rubens.

Date: 2009.05.22
Posted by Anka Kuncheva, Sofia, BG
Message: A video demonstration of Caravaggio's art - http://vbox7.com/play:8c710160. No text. The video could easily be used as a background for a short lesson on Caravaggio's art. It goes into detail in some of the paintings.
Date: 2009.04.24
Posted by Riccardo Paternò Castello
Message: Concerning all the so called "Caravaggisti" it is important to remember some artists who adupted the Merisi's style from his first period in Naples. This group is to be considered as important as the one that developed in Rome. Not only the "Spagnoletto" but also great masters as Battistello Caracciolo,Bernardo Cavallino, Luca Giordano, Mattia Preti, Giovan Battista Ruppolo, and the Recco family should be remembered.
Date: 2009.04.22
Posted by SIMONE STURIALE
Message: The term Mannerism is usually used with reference to Italian painting in the 16th century and represents a distinct phase between the art of the High Renaissance and the baroque:
Mannerist characteristics include figures that are unnaturally muscular or elongated, presented in violent or strained postures. The resulting effect is a sense of ambiguity and discomfort rather than the harmony, peace, and composure sought by Renaissance artists, who followed the classical rules of art. Composition was crowded, often showing many inconstancies in proportion and scale as well as a harsh use of colour.
Thanks to the influence of Michelangelo and of figures of an antique relief Artists'figures, expecially in Pontormo's Deposition, appear to be molded out of stone.
When intellectualistic ideas of late Mannierism were still alive, Michelangelo Merisi started a new kind of depicting reality, influenced by "the realismo lombardo", throught a dramatic use of light he could capture real life in a spot.