Name of the Artist / Artwork
:
Albrecht Dürer - His Life and Work
Country
:

Germany
Century
:
1400 - The 15th Century
Artist / Artwork Description
:
Albrecht Dürer was born in May the 21th 1471 in Nuremberg and died there the 6th of April 1528. He is one of the most important german painters, and as sure the most important painters of german renaissance. He was not only painter but worked also as designer, mathematician and he was a high class art theoretician. He is one of the most illustrous artists of humanism and the time of reformation.

His initials - the capital letters A and D became a kind of "brand" for him and for a lot of imitators. He was the first artist who signed his artworks, especially his illustrations, with his initials.

Albrecht was born as third child of his parents, altogether there were 18 siblings but only three survived. His father worked as a goldsmith in Nuremberg and the whole Dürer family lived in an own house just beneath the Nuremberg Castle. Dürers father started to teach his son as a goldsmith, too.

They say that little Albrecht begged his father to let him become an apprentice of a drawer and painter and at least his extraordinary giftedness (expressed for example in a self portrayal of the juvenile boy) convinced the goldsmith. So in 1486 Dürer started his artistic training with Michael Wolgemut, painter and printer in Nuremberg.
The Context
:
In 1471 - the year Albrecht Dürer was born - Francesco della Rovere was elected Pope Sixtus IV, who restored the old Cappella Magna between 1477 and 1480. Since then the chapel is called Sistine Chapel.
It was also in 1471 when the Imperial Diet in Regensburg outlawed vendettas to ensure public peace.
Until 1477 France and the House of Habsburg battled for Burgundy territories. The fight ended with the marriage of Mary of Burgundy with Maximilian of Habsburg. Due to clever matrimonial policy in the following years and centuries the House of Habsburg gained power and territories.
From 1493 to 1519 Maximilian I was Holy Roman Emperor, he is often referred to as "The Last Knight".
In 1499 the Swiss reached independence from the Habsburg Empire.
About 1500 a population of circa 10 million lived on "german" territories, a total of 69 million altogether in Europe. The influence of humanism and renaissance led to a boom of natural sciences.
In 1516 Franz von Thurn und Taxis build the first postal service based in Brussels.
On October 31, 1517, Martin Luther wrote to the Archbishop of Mainz and Magdeburg, protesting the sale of indulgences. He enclosed 95 Theses and nailed a copy of these theses to the door of the Castle Church in Wittenberg. This day is now seen as sparking the Protestant Reformation. In the following years Luther completely breaked with the Roman-Catholic Curch , the religious war lasted till 1648. In 1522 the first German translation of Luthers New Testament was printed.
Emperor Maximilian I died in 1519 and Dürer decided to travel the the Netherlands to talk with the new Emperor Karl V. about his life annuity which he had been assured by Maximilian. Dürer tried to win Karl V. as promoter of his art.

Dürer was member of the Nuremberg city-council, and it is supposed, that he played an important role in planning Nurembergian art-projects. In this period he made further comprehensive series of woodcuts as f.e. "Die kleine Passion" ("The little Passion", around 1509 – 1510), consisting of altogether 37 folios that were also published as a book in 1511. These artpieces document his considerable mastership in woodcutting very well.
Background
:
Dürer ( 1471-1528) lived in Nuremberg. His first master was Michael Wolgemut. He teached him in painting. But this was not enough and so he travelled to Colmar, Basel an later on to Strasbourg. He searched new artistic and creative impulses.
Then he went to Italy. At this journey he was especially in Venice influenced by the Renaissance-Art. He "produced" several aquarelles of landscapes.
Dürer developed the system of proportions. He had the opinion that beauty must be expressed by numerical proportions.

National Comparative
:
In Germany his work and art-style in the field of etching and woodcutting influenced artists of following times (The "Little Masters", for example Lukas van Leyden).
Dürer himself hit the roads after completing his apprenticeship at the Nurembergian printer and painter Michael Wolgemut. Travelling around was very common for artists at that time. In 1490 Dürer started for Colmar, where he went to see famous Martin Schongauer for learn from him something about copper engraving. One year later when he arrived in Colmar Schongauer had died in the meantime, but his brothers continued the business and put him up. Dürer continued his tramp for Basel and Strasbourg and in 1494 returned to Nuremberg. Dürers wanderings certainly had an huge impact on his technical skills and his artistic growth. During these years (1490 - 1494) the powerfully evolving art epoch renaissance influenced Dürers artistic progression. He was always looking for tutors standing in the forefront and engaged in learning a lot of new things. This can also be seen in the fact that Dürers art work is very manifold reaching from pencil drawings and oil paintings, watercolors and chalk drawings to woodcutting and copper engraving, from portrayals to pictures of animals and landscapes, from religious images to technical descriptions.
Transnational Comparative Analysis
:
Dürer definitely had an important influence on artist of following generations, especially by the medium of printmaking. His paintings were less influential because in most of the cases they could only be found in collections of privatmen and in only a few cities. But it is quite sure that his printmaking-art had influence on italian artist (Titian, Raphael, Parmigianino) who used their connection to Dürer as a potal for their own investigations in distribution of their works even in northern Europe.
But also some of the italian engravers could profit from Dürers mastership: They sometimes used parts of Dürers originals which they copied into their own engravings (f.e. Giulio Campagnola, Agostino Veneziano or Christofano Robetta).
After 1515, when Marcantonio developed his new engraving-style, Dürers influence faded.
Compared to his influence on italian engraving Dürers importance in painting was less dominant.

The other way around Dürer was most notably influenced by Italian renaissance artists. He travelled to Italy two times, first in 1494 and a second time in 1505. His first journey led him to Venice where he first of all spend time on studying perspectives and propotions.
The period between his both Italian journeys is considered as his most productive years.
The Guide to the Gallery "The Uffizi" in Venice is cited the following way: "Durer's journeys enabled him to fuse the Gothic traditions of the North with the achievements in perspective, volumetric and plastic handling of forms, and color of the Italians in an original synthesis which was to have great influence with the Italian Mannerists."
On his second trip to Italy (1505-1507) Dürer visited Vernice again, furthermore he stayed in Bologna and Ferrara. This time he's even in Italy known as famous artist and the German church in Venice tasked him with painting the 'Rosenkranzfest' (rosary celebration).
Dürer came to Italy with the ambitions to learn from famous Italian painters, most of all he admired Giovanni Bellini (1430-1516).
His last journey (1520-21) led Dürer to the Netherlands, he was hailed as master craftsmen where ever he went. He was mainly interested in the Dutch art treasures and making acquintenance with Dutch artists.
Development of the artist's work through the years
:
Dürer was an apprentice of Michael Wolgemut (1486 – 1490), but Dürer did also additional instruction in engarving as for example such made by Martin Schongauer.
It is not quite sure whether he visited Netherlands, Upper-Rhine and the Alsace in his four years of travel (Wanderjahre). In 1494 he married Agnes Frey, the daughter of one of his fathers friends. Their marriage remained childless.
Already on his first travel to Venice he came into touch with the art of the "quattrocento".
Returning from his journey he founded a workshop in Nuremberg together with the artist Hans Schäufelein, Baldung Grien, Hans von Kulmbach
Later, on his second "italian" journey he met artists like Tizian, Bellini and Giorgione. Their style of painting had great influence on Dürer. There he found inspiration by the power of expressivness of colorit.
In the first phase of his artistic work he primarily produced portraits (for exmple several self-potraits, portrait of his mother or portrait of Frederic the Sage). Lateron he changed his special subject and engaged in etching and woodcutting. Out of this period the following artworks originate: revelation of John the Baptist (1498), a series of altogether 16 woodcuts, and the etching "Adam and Eve" (1504).
Justification
:
Dürer was the one who promoted etching and woodcutting and he himself was the absolute genius in these techniques. A lot of artists copied his style, even his motives (f.e. parts of landscapes he used in his engravings can be found on the etchings of other artists).
He helped woodcut to play an independent role as an artwork that could match for with painting - not only as illustrtion für bookprint. In his woodcuts he used refined techniques of colours (watercolours) and this made woodcutting just as magnificent as etching.
But even in etching he refined techniques. The meaning of printing-techniques he saw – as his "italian" colleagues Tizian, Michelangelo and Raffael – in spreading his influence and his work for the purpose of earning some money. But nevertheless Dürer print are more than only "reproductions", they are artpieces each and he made woodcut a piece of art, too.
Dürer had his own publishing-house and he published and distributed his works. This distribution spread new artistic developments all over Europe in a very short time.
Dürer did not only work as an artist, but also as an art theoretician. He wrote a book about the problem of perspectivism in painting and he was busy as a engineer who dealt with fortfication of towns.
Dürer had a wide interest in medicine and its psychological parts. Like others at this time later in his life he started to work with alchemic symbols in his art.
Another focus was his studies on human proportions and geometric constructions.
Together he was a excellent painter, engraver, craftsman and he can be seen as the first true Renaissance artist outside of Italy.
Dürers opus is comprehensive and impressive: he created an estimated 1200 works, including more than 100 oil paintings, 400 woodcuts, 107 engravings, six etchings, as well as innumerable drawings, sketches, and several books.
Bibliography
:
Schneider, N. (2002). Porträtmalerei Taschen Verlag.
Grebe, A. (2006). Albrecht Dürer. Künstler, Werk und Zeit. Wissenschaftliche Buchgesellschaft.
Wolf, N. (2006). Dürer 1471-1528: Das Genie der deutschen Renaissance. Taschen Verlag.
Appelbaum, S. & Appelbaum, S. (1970). The Drawings by Albrecht Durer.
Eberlein, Konrad v. (2003). Albrecht Dürer. Rowohlt.
Schröder, K.A., Sternazth, M. (2003). Mein Agnes. Die Frau des Malers Albrecht Dürer. Gießen: Brunnen-Verlag.



Web Based Resources
:
www.heiligenlexikon.de
www.whoswho.de
www.artnews.de
www.bonnifatius.de
www.museen.nuernberg.de
www.kunstunterricht.de
Related Material:
Image available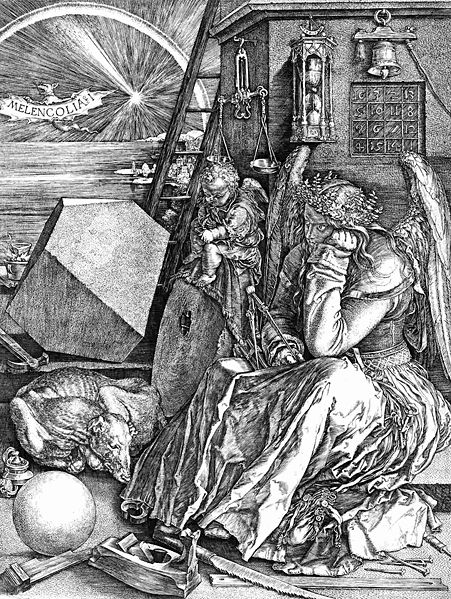 File name: 115_Duerer-Melancholia.jpg
Description of the material:
Dürers "Melancholia" (1513 - 1515, copper engraving) The royal nr. I in the copper-engraving shows that Dürer used that as one part of the four temperaments. Many other alchemistic symbols can be found in that work
Contextualisation Of the source:
http://de.wikipedia.org/wiki/Bild:Melencolia_I.jpg
Interpretation of the source:
The Copperplate engraving was influenced by alchemical ideas and symbolism. For Dürer and many others at this time alchemy formed an essential ingredient of the cultural background. Many alchemistic symbols were used by Dürer. For example the compasses, the rainbow or the seven-runged ladder.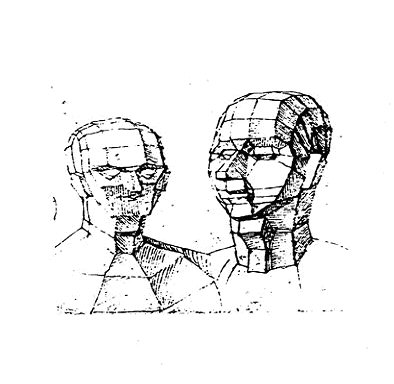 File name: 115_Duerer-kubische-Koepfe.jpg
Contextualisation Of the source:
Image/ head as an assembly of geometrical planes This image is a JPEG-File and the size is 26.6 KB. The dimensions of this file are 394px × 384px. The original drawing is from around 1523.
Interpretation of the source:
The drawing shows an example for the artists' excessive, studies of the human body. Other mostly Italian artists like Piero della Francesca did the same they have made many studies of geometrical solids and how to represent them in correct perspective. This picture looks very modern and it could be used to create a kind of manual computer-imaging programme. Due to the artist diligence and infinite patience he was able to create such a detailed work.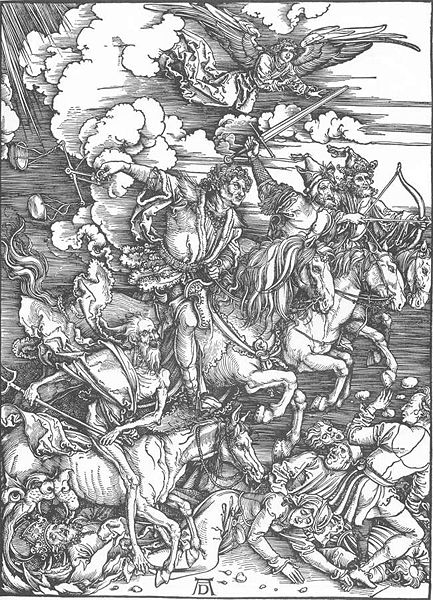 File name: 115_Durer_Apokalyptische-Reiter.jpg
Description of the material:
Image/ The Four Riders of the Apocalypse This image is a JPEG-File and the size is 114 KB. The dimensions of this file are 433 × 600 pixel. The original Woodcut from 1497-98 is size 39 x 28 cm.
Contextualisation Of the source:
The four riders symbolise 1) The `conqueror' with his bow; 2) `War' with. a sword; 3) `Famine' with a pair of scales; 4) `Death', on a `sickly pale' horse, closely followed by Hades. http://de. wikipedia.org/wiki/Bild:Durer_Revelation_Four_Riders.jpg
Interpretation of the source:
The woodcut shows the best known scene from the Apocalypse. The woodcut shows the 4 apocalyptic riders after the first four seals were opened. It's a dramatically version of the passage from the Book of Revelation. This woodcut is the third and most famous woodcut from Dürer's series of illustrations for The Apocalypse.
Comments about this Artist/ArtWork
---
Date: 2009.05.30
Posted by canesi gianluca teacher liceo artistico di brera milano
Message: TRADUZIONE

This is the dialogue of a performance where she appears with a naked foot while on the other one she is comfortably wearing an army-issue rubber boot, as nowadays young people do. Then the "lady's escort" arrives tactfully, with quick gestures like a mongoose.
This scene takes place in my classroom where we tidy up some desks and some inappropriate furnishings, because they would hold up the staging.
At the beginning you can see a copy of Dürer's "Adam and Eve" while later, in the dark, a text will be read and played in one go.
The action begins when he kindly hands her a beautiful apple on a silver tray. She grabbs it and then gets rid of the tray by throwing it to the ground with a rude gesture.
Near her naked foot, white-coloured like a bone, some beautiful small cakes are laid. She then enjoys crushing the cakes with her white-coloured foot with sinuous and satisfied movements, arousing a chorus of loud applause of the audience.
Everything is wonderfully silent (only noises are heard), only in the finale the room is put in order for its daily functions.
The title may be "From Eve to nowadays, at least" and it's a work where images, though in motion, can explain better than a lot of words some issues about past art to "rebel" students, as I dream of my students.
Because I like thinking about young people who really practise this ancient art disclosing it up to the present days, what gives it new strength instead of preserving it only in museums.
It will be necessary to adjust something but what I've just explained is the outline.
A dialogue entitled "Performance to be acted with ringing voice and in one go" will follow.

"Come on! Hurry up and stop it because I've other things on my mind and no time for your childish silly things. Hurry up with this apple, I'm about to lose my patience and I've really very little patience now. And stop hanging about close to me, hand me those small cakes and let's stop it once and for all, that's enough."

Date: 2009.02.03
Posted by Marina Galanti
Message: Albrecht Durer is in my opinion the most important artist of north Europe in the renaissance period.
He was greatly influenced by Italian artists, expecially Venetians and spent some years in the north of Italy.
I would like to share with you a web site that I think is interesting and can be used by Italian teachers when teaching Durer. On this web site, in Italian, there is a very interesting gallery of some of his masterpieces and two soecific sections, one focusing on his portrait techniques and the other one on his Italian period, that is the time he spent in Italy.
This is the address of the web site:
www.viaggio-in-germania.de/duerer.html